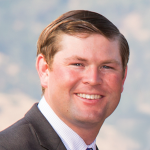 President's Message
by Frost Pauli
Almost one year ago our community was faced with a disastrous wildfire. The emotions and scars from that disaster are still being felt and seen. And even as these feelings begin to heal and homes are being rebuilt, another devastating wildfire has struck our county, burning homes, killing livestock, destroying range land and timber, and damaging crops. Despite these challenges, our community will do what it always does in these times of need. We will band together and overcome. And the Agriculture community of Mendocino County will be at the forefront of this effort.
We learned a lot last October about the resiliency of Mendocino County farmers and ranchers. As an organization, Mendocino County Farm Bureau learned a lot about how to help those farmers and ranchers during a natural disaster. From coordinating access with law enforcement for ranchers to check on their livestock, to getting special permission for grape growers to harvest their crops, MCFB worked tirelessly to help members and non-members alike, even going so far as to hire and pay in part for a crop duster plane to fly on grass seed to prevent erosion and restore feed on ranches in Redwood Valley and Potter Valley.
This July and August, when fires started nearly simultaneously in Potter Valley and Ukiah, MCFB was more prepared to respond and help folks in need. Staff was immediately on the phone with local law enforcement asking how they could help. Verifying legitimate farmers and ranchers who needed to get into areas to evacuate livestock was one of these efforts. Identifying safe delivery routes for pears trucks was another. And of course, staying in contact with colleagues in Lake County who were having an even tougher time as the fires burned away from us and right at them.
Sadly, devastating wildfires have become all to regular for California. There is a lot of talking happening in Sacramento, but this talk will not change the fact that these fires will continue to happen. For us farmers and  ranchers we must prepare for these disasters in the future just like we prepare for frost season, harvest or calving. We must be vigilant about having plans for the next "what if" scenario, and we should be thinking in terms of not if, but when it will happen.
Mendocino County Farm Bureau is thinking this way too. Before the fires last October, MCFB had planned to host a workshop on prescribed burning for protecting against wildfires, improving rangeland and benefiting the environment. Ironically, we had to postpone this due to the start of the fires. We held the event in May this year, almost a month to the day before this season's fires started. MCFB also met with Supervisors Croskey and Brown to discuss ideas for improving large animal rescue efforts in our county. We will continue to work with county officials and first responder agencies to look into ways to improve disaster response procedures in relation to farming and ranching operations.  MCFB is also working with state and local wine grape advocates to help grape growers cope with losses from smoke taint and our Ag Commissioner Office to identify and record the impact to farmers and ranchers.
On top of everything else that MCFB is doing, fire prevention and recovery will always be important. The number one priority for all of us is the safety of our families, our employees and neighbors. We cannot know where the next fire will start, but we can prepare for it, and when it does come MCFB and Agriculture in general will lead the way in getting our communities back to normal.
MEMBERSHIP BENEFITS
Farm Bureau members have access to a multitude of benefits and discounts.
LEARN MORE